The 1st of September was my wedding anniversary. My husband Peevie and I have been married for 7 years. (no that is not his real name, no he is not a blow up doll, and yes he really does exist) I am very proud of us. We have not killed each other yet. I am certainly not planning on it. He is my yin to my yang. He "completes" me. HA! Sorry had to get a sarcastic comment in there. We had a lovely time "out" the day before on Sunday.
We ate out and gazed lovingly into each others eyes. (I'm cracking a tooth here this is so sweet!) Then he took me to see a movie. We hadn't been to one in a long time and it is something we really love to do. We saw the "
Dark Knight
". Great movie! Really to bad Heath Ledger is gone and doesn't get to receive the accolades he sure deserves.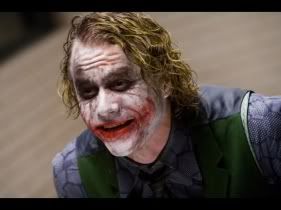 I am a bit amazed at his makeup job in the movie. It's done as if, my husband were to take his glasses off and do my makeup. Hehehe. Well here is to another year. May we be as lucky in love as we have been this past year.
~~~Jennifer & Peevie~~~