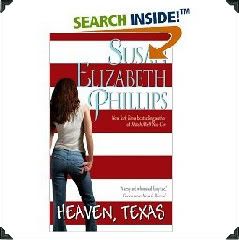 Genre:
Contemporary Romance
Pages:
384pp
Isbn:
0380776847
Challenge
This one covers two challenges at the same time.
#1 Read Around The Genres
#2 Fall 2008 Reading Challenge
First Sentence or two:
"A
bodyguard
! I don't need any damn bodyguard!"
Synopsis:
From the author of It Had to Be You comes a deliciously, sexy contemporary romance. Former pro-football star Bobby Tom Denton has agreed to lend his fame and his name to a movie. But when he doesn't show up, the film company sends straight-laced Gracie Snow to bring him to the set—with surprising results.
Come heck or high water, Gracie Snow is determined to drag the legendary ex-jock Bobby Tom Denton back home to Heaven, Texas, to begin shooting his first motion picture. Despite his dazzling good looks and killer charm, Bobby Tom has reservations about being a movie star -- and no plans to cooperate with a prim and bossy Ohio wallflower whom he can't get off his mind or out of his life. Instead, the hell-raising playboy decides to make her over from plain Jane to Texas wildcat.
But nothing's more dangerous than a wildcat with an angel's heart in a town too small for a bad boy to hide. And all hell breaks loose when two unforgettable people discover love, laughter, passion -- and a match that can only be made in Heaven.
Random Thoughts
- I loved this book from the first page on. I could not put it down. I read this in one day. This may be my favorite one of the "Stars" series. This is another
"INSIST"
read. No recommending about it!
Favorite Scene
- I had several so it's pretty hard to nail down just one. I think I will go with the scene in his trailer on the set. The one where she had like 6 of his fans in the trailer just to annoy him. Then he turned it around on her and announced to the girls that he was engaged to her. After the girls left and they got into an ice cream fight with each other. That to me was the first physical step they took in getting together. I was so happy and excited with that scene. Not to take away from any of the other
many scenes
in this book.
Rating
- I give this book 5 out of 5 stars.
*Note
This is part of a series she has written about the Stars Football team. The first book is
"It Had To Be You"
. To see the rest of the books in this series, or to see what order.
Go Here